1

Driving Position
The Rp1 has a "feet-up" driving position that is unique amongst road going cars. We created this innovative solution for 2 reasons.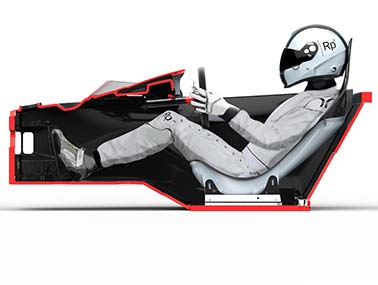 Firstly, it allows us to incorporate radical front diffuser aerodynamics into the design of the car, providing unparalleled levels of downforce with minimal drag. The Rp1 corners unlike any other comparable car.
Secondly, it gives a formula one-style driving experience, with the closest possible connection between driver, car and road.
It's so unique it required a whole separate development program to produce our own bespoke Elemental seats. The result is a seating position that's surprisingly intuitive, comfortable and feels just "right" – even on a road trip.
Save
"Perhaps the most intriguing element of the Rp1 is the seating position, which will be familiar to drivers of modern F1 cars. The seat is tilted back nearly 30 degrees, meaning that the pedal box is higher than your hips.
To look at it makes no sense, but slide in and it feels the most natural of driving positions.
It's not a design gimmick either, as it has allowed the flat floor at the front to be as large as possible, allowing the diffuser to work even more efficiently. "
Stuart Gallagher
Evo Magazine
Structural Tub